Lesbian Christmas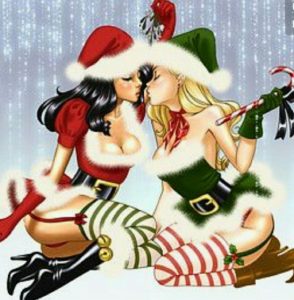 I went to several Christmas parties over the holidays, and had quite the unexpected and yet enjoyable evening at this one party, since I had a lesbian experience with another one of the guests. Many of the guests were dressed in various types of Christmas outfits, as was I. Another girl was wearing the same outfit, but in a different color, I was in the red, she was in the green, and we matched and looked like a pair, and this got us talking and we really got along well together. The heavily spiked eggnog was flowing, and we were becoming more relaxed as the evening went on, and soon the conversation turned to sex.
She asked me if I'd ever been with another girl, and I said I'd kissed a few in college, but nothing more than that. She then leaned over to me and kissed me, and passionately, and I didn't stop her. I was surprised I enjoyed it and her so much, and she asked me to go home with her. I accepted. We took off each other's costumes and were soon rubbing each other's breasts and pussies and I was very wet, and she knew just how to touch me, I was soon bucking against her hand as she finger fucked me.
I came all over her hand, and then she licked her fingers. I was soon kissing her pussy lips and sucking on her little clit with her legs over my shoulders and she was quivering beneath me. I'd never licked pussy before, but I just did what I liked, and she seemed to like it a lot as well and was soon cumming in my mouth. I hadn't planned on hot sex, let alone with a woman, before going to this Christmas party, but it was a wonderful experience, and one we both enjoyed.