Hot Girl On Girl Action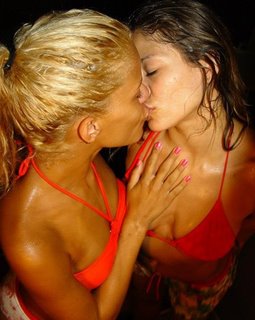 Lots of guys that call are very much into watching girls play with each other. Last night a caller said his girlfriend was bisexual and he loved it when she had girlfriends over to play and he was allowed to watch. The night before she'd had one of her playmates over and they were going down on each other as he watched and stroked his cock. They let him go down on them both as well and it was a threesome with lots of just them playing as well. He'd bought his girlfriend a double dildo recently and they broke it in last night as he watched them use it together.
They lubed it up well and each inserted it and started to grind against one another, he told me as he furiously masturbated and relived the moment as he told me all about it. He watched their tits with hardened nipples rub against one anther as they ground their cunts against one another, as the toy worked its way inside of them both. He was using a toy himself, his favourite prostate massager was buzzing away inside of him as he watched them get off together. Once they were all creamy, he licked them both clean once again.
One of the girls slipped on a strap on and started fucking the other one from behind, and that was what pushed him over the edge to cumming, it drove him fucking wild. He watched up close from underneath as he licked their clit as they were getting fucked by it and he watched it go in and out up close. He said that was his favourite part, he just loved the up close view. He was stroking his dick the entire time and soon sot all over his belly and chest.