Lick My Feet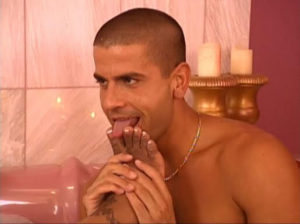 Feet are an incredibly popular part of the body to fetishize. They are talked about for foot jobs, foot worship, toe sucking, all kinds of different branches on the foot fetish tree. Some men like to adore and pamper a woman's feet, giving her money to get frequent pedicures, designer boots and shoes, foot massages and of course they love to rub them and have them rubbed over them themselves. Some adore the smell of feet, really dirty feet, as one caller says, "cheesy feet". Let me lick your cheesy feet. I'm not exactly sure how long it takes for feet to become "cheesy" if they aren't washed. I'd rather not find out.
Clean, dirty, there will be someone desiring them and masturbating over them. Ones love a pair of feet on their cock and balls giving them a foot job and then shoot the ropes of gooey cum all over the feet and toes. Some even love the woman to be wearing nylons as they do, and the little pearls of cum cling to the nylons then sink in and make the stockings or pantyhose all wet, soaked through with the cum. Men do love to mark their territory with their goo.
One caller said summer for him was the best time of the year, since women in flip flops and sandals was as exciting to him as if he was at a nude beach, he would stare at women's exposed feet and it was a buffet for him, and he wanted to reach out and touch them and caress them and tickle them, that's another thing many foot guys are into, tickling, they love to make the ladies laugh til they cry. Some even have foot stockades so the women's feet are locked in and they cannot escape the tickling fingers!