Laughing At His Pain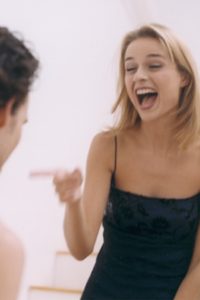 Many would think it's cruel to laugh at the pain and misfortune of another, but that's just the way the world works at times. Cock and ball torture can be fun and so many men truly deserve it. Personally I love to dole out pain in the most sensitive areas to me, I find it amusing to inflict it on them, when they ask for it, so much the better. One caller actually asked how many men over the years I'd hospitalized due to cock and ball torture I'd done to them. I laughed and said I'd lost count at this point. How many men out there have I rendered infertile due to my cruel and unforgiving blows to their genitalia? One can only hazard a guess.
A caller asked me about my most devious cock and ball torture experience I'd had, and I laughed recalling the incident for a moment then went on to tell him. A boyfriend of mine a few years ago asked me if I'd kick him in the balls, I laughed as I didn't think he was serious, but he was/ I said ok, and let him have a good one right between his legs. I was barefoot and I didn't think it would be as bad as if I'd had my boots on. He did double over and collapse to the floor. I was concerned I'd really hurt him when he said I'd made him jizz in his pants!
I laughed and he said to give him a few moments to recover and go put your boots on, I did as he asked and then he told me to really let him have it and I kicked his balls like I was kicking a football, no holding back. He said I made him see stars, I was glad to help, it was kind of fun to make him suffer like that, especially since he was asking for it. He needed a few days to recover after that before we could fuck again, but it was the beginning of my liking to inflict physical pain on men.