Who Ya Gonna Call?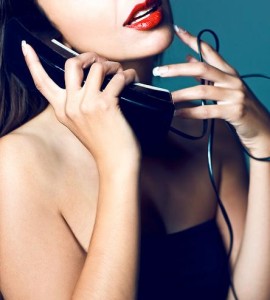 Masturbation is great, and most of you likely watch porn as well, but phone sex is still around and a wonderful way to masturbate. Listening to another person talk to you about your sexual fantasies, painting a picture with their words and descriptions and joining you as they masturbate at the same time, it's pretty fucking hot and when you are so horny you can pick up the phone any hour of the day or night and find a naughty nympho right on the other end of the phone just waiting to masturbate with you.
How hot is that? Long distance lovers aren't the only ones calling each other to get off, many people that are complete strangers can have plenty of hot phone sex together and be very sexually compatible, even though you won't ever meet them or touch them in person. That phone connection can be plenty hot and as soon as you start to hear each other heavy breathing and knowing they are touching themselves just the way you would if you were there with them, it's very arousing. Some people are into body rubbing noises, where they actually put the phone down close to their naughty bits and their partner enjoys hearing them stroke one out and all the wetness and dick tapping type noises, that's not for everyone, but some do like it.
Sometimes not seeing them allows your mind to wander more and create the dream person in your minds eye of who you are actually playing with. The anonymity can also make it seem more acceptable to tell someone something that's very naughty, that you might be a bit reserved to share with them face to face. The safety of over the phone is a good barrier for many, so they could reveal during a phone sex call something they wouldn't dream of to their wife or girlfriend.